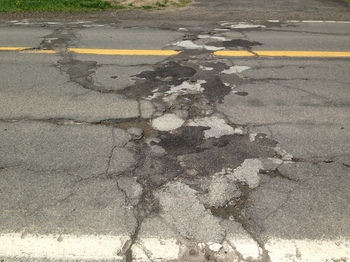 This year's harsh winter has already taken its toll on local roads.  As the weather gets warmer, conditions will likely get worse.  Help save the rims of Washtenaw County cyclists by reporting potholes at the web sites and email addresses below.  
On Monday December 2, 2013, a majority of Ann Arbor City Council is poised to vote to repeal the City's "Crosswalk Ordinance". The ordinance requires drivers to stop for pedestrians within a crosswalk as well as those clearly about to enter a crosswalk. The Washtenaw Bicycling and Walking Coalition was part of the 2009 public process that delivered resident-directed 
recommendations to City Council and  led to the development of this stronger crosswalk ordinance. 
Now City Council is attempting to overturn that effort with no analysis of the impact of the ordinance.
 Council member Steve Kunselman reported to WBWC that no data is necessary to overturn this ordinance, this Council has the votes and  he prefers to "use emotion" to guide this type of decisionmaking. Data just "intellectualizes" the conversation. 
Council members Chuck Warpehoski and Sabra Briere introduced a motion to postpone action on the repeal until a Pedestrian Safety Task Force conducts a full review of the ordinance and provides recommendations in a report to City Council. WBWC supports postponement in order to allow the Task Force time to complete a full review of the impacts of the ordinance and involve the public in the decision making process-- neither will happen if City Council votes to repeal the ordinance on Monday. 
Council supporters of a repeal of the ped crossing ordinance as of 11/26: Peterson, Lumm, Kunselman, Anglin, Eaton and Kailasapathy.
Council supporters of deliberative review of the ordinance as of 11/26: Taylor, Warpehoski, Briere, Hieftje and Teall
Because building a walkable city that is safe for pedestrians and bikers is important to you, we need you to participate. How you can help:
**1**. Come to the Ann Arbor City Council meeting on December 2nd (7pm City Council chambers) and demonstrate your disapproval of how Council is proceeding. Ask City Council during the public hearing to postpone acting until a true review of the ordinance has been conducted by an appointed Task Force.
Please let us know if you can speak at the public meeting by registering on
Facebook
  or sending a note to This e-mail address is being protected from spambots. You need JavaScript enabled to view it . Even if you are uncomfortable speaking, please just attend the meeting. Making sure the room is filled with supporters of a safe, walkable Ann Arbor will help to demonstrate the public desire to postpone action until after the Task Force delivers initial recommendations. If you can not stay through the entire public hearing the most important time you can be present is from 7:00-7:45. 
We have been told that a new resolution will be introduced on December 2nd by  Council member Steve Kunselman to model Ann Arbor's code language after Traverse City. Ironically, Traverse City was following Ann Arbor's lead when they revised their code language in 2011. While the words on the paper would be better than a full repeal, the legal impact would not be. Traverse City currently interrprets their code to mean motorists must stop for pedestrians waiting to cross at marked, signed crosswalks. Ann Arbor would not follow this interpretation. Before proceeding with any action, we simply believe the city should allow for a public process, review of data and impact anaylsis. 
Other ways you can help:
2. Consider writing a personal letter to City Council supporting the current ordinance/asking Council to postpone action until a true review of the ordinance has occurred. It is crucial that you copy the WBWC (
This e-mail address is being protected from spambots. You need JavaScript enabled to view it ) with the submission so that we can reference these letters and share your views, particularly if you can't attend. 
Thank you for your time and attention to this issue.
Ann Arbor City Council member Sally Peterson, co-sponsor of a bill to repeal Ann Arbor's pedestrian crossing ordinance indicated at the December 2nd City Council meeting  that Ann Arbor's pedestrian crossing ordiance was a failure. She stated "that the approach of increasing pedestrian rights just hasn't worked. From 2009 to 2012 pedestrian crashes rose 42%. For a five-year period prior to that, there was a decrease." (Ann Arbor Chronicle)
While WBWC would agree that we need to do more to improve the safety of Ann Arbor's pedestrians, particularly in the downtown, we believe a close look at the data will demonstrate that claims that pedestrian safety at crosswalks has decreased since the passage of the crosswalk ordinance are unfounded. 
WBWC downloaded from SEMCOG every crash report involving pedestrian/car crashes between 2006-2012. Crashes were categorized based upon where they occurred. The majority of these crashes, while they should be looked at and trends identified, did not occur at non-signalized crosswalks and as such are not relevant to the particular discussion of pedestrian safety. WBWC took an in-depth look at 
all  of the crashes involving pedestrians between 2009 & 2012 that occurred at non-signalized crosswalks. The following report, chronicling each crash, was prepared for Council.  To avoid any claim of bias or falsificaiton, all reports and imags were pulled directly from the crash reports. The picture this data tells is quite different from what just a quick glance at the SEMCOG website might suggest and, certainly, very different from what supporters of the crosswalk repeal are reporting.  Although it is true that crashes involving pedestrians have increased since 2010,  

Ann Arbor has 

 not seen a  change in crashes at mid-block crosswalks-- in fact we've seen a small decrease when the data is viewed in relationship to overall crashes.  
In 2009 (pre-ordinance change), of the 43 pedestrian/car crashes in Ann Arbor, six or 13% , were at non-signalized crosswalks not controlled by a stop sign. Three , or 7%,  were at mid-block crosswalks.

In 2012 (fully post ordinance implementation), of the 60 pedestrian/car crashes in Ann Arbor,  nine or 15%, were at non-signalized crosswalks not controlled by a stop sign. Three, or 5%, were at mid-block crosswalks.
Furthermore, the biggest risk pedestrians appear to face at crosswalks occurs at intersections and involves drivers turning left and hitting a pedestrian attempting to cross a crosswalk at an intersection. The crashes at mid-block crosswalks are alarming, but these crashes happened on busy roads before and after the crosswalk ordinance was changed. The change is that today our community seems to have a heightened awareness of these types crashes. We urge City Council to take the time to look at this data, examine the crashes and look for counter-measures that will truly help to improve safety in our community. 
The crash data does not support the claim that pedestrian safety at crosswalks has declined since Council revised our pedestrian ordinance in 2010 and 2011. We have, however, seen a number of POSITIVE changes not apparent in this data, people who were unable to cross the road safely and quickly before are now finding Ann Arbor's streets much more hospitable.  WBWC urges Council to utilize the newly formed Pedestrian Safety Task Force as a place to begin looking at all the crash data and prioritizing engineering, enforcement and educational measures that will enhance walkability in our community.
Ann Arbor City Council will be considering a repeal of Ann Arbor's pedestrian crossing ordinance tomorrow night, November 18th and holding a public hearing at the second hearing of the resolution (likely December 2nd). As of today, a majority of Council: Mike Anglin, Jack Eaton, Sumi Kailasapathy, Steve Kunselman, Jane Lumm, and Sally Peterson support a repeal. Do you agree with them that a person in a wheelchair should need to roll themselves into the street to signal their intent to cross? Should their resolution pass, drivers would no longer be required to stop for pedestrians waiting to cross at a crosswalk.  Drivers would only be required to stop if a pedestrian was willing to place themselves in the street in front of a moving vehicle. We believe this is unsafe for all us, but especially for the most vulnerable in our community (kids, seniors, and individuals with disabilities. 
Council appears to be reacting to public fears about safety at crosswalks, not looking at the facts. 
View Council's resolution here.

HOW TO SPEAK OUT AGAINST THIS CHANGE ..
Sign the petition we have started regarding the proposed change. Please forward to anyone you think might be interested. Comments are helpful, because they offer a much more personal perspective on the issue.
Show up at the public hearing City Council will be holding on this issue (anticipated date: December 2nd). Without a packed house, Council is likely to ignore the facts. The
 first reading for the ordinance change will be on Monday, November 18th. Anyone wishing to speak to Council must call the City Clerk's o
ffice 
(734) 794-6140

)
 a
t 8am promtly for one of the 10 general speaking slots. The agenda item number is C-4. However, during second reading, two weeks later, there is a public commentary period and there can be an unlimited number of speakers. 
Crosswalks can and should be safer for all users. But removing legal protections that work for all pedestrians is not the solution. If Council believes in a safe, walkable community is must dedicate resources to good crosswalk design and clear signage, community education, and enforcement of unsafe driving behavior. Tell Council you want them to work on REAL solutions, not easy solutions. 
Page 1 of 3